In this tutorial, we'll compile our own Cleanflight/Betaflight firmware. You might ask yourself why do I want to compile the firmware on my own instead of just using the already compiled .hex files from Cleanflight/Betaflight? Well if you are okay with the original firmware you might as well use the precompiled files. But what if you want to add/remove some features or write some of your own code? You can do that by modifying the source code, which you then have to compile into a .hex file.
You will need Linux to compile the firmware. In this post, I will only cover the compilation part. If you would like to know how to set up Linux on Windows check out this post and you if want to know how to add/remove features from  Cleanflight/Betaflight then check out this one.
First, open up the terminal. The GCC(compiler) should already be installed, but you can check using the following command.
arm-none-eabi-gcc 

--version
If GCC is not installed, install it by using this command.
sudo

 

apt-get install

 gcc-arm-none-eabi
Using the cd command move wherever you want the files to be downloaded to. Then download them using git.
git clone

 https:

//

github.com

/

cleanflight

/

cleanflight.git
Move them into the newly created folder.
Try to compile.  Set the target to whatever board you are compiling the firmware for.
make

 

TARGET

=NAZE 

//

or 

TARGET

=

"any other board"
You might get the following error:
make/tools.mk:296: *** **ERROR** your arm-none-eabi–gcc is '4.9.3', but '6.3.1' is expected. Override with 'GCC_REQUIRED_VERSION' in make/local.mk or run 'make arm_sdk_install' to install the right version automatically in the tools folder of this repo. Stop.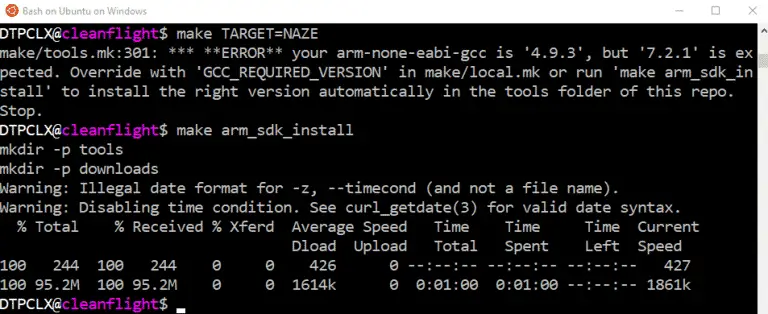 Some messages about missing python might appear. If so let's install python…. just to be sure.
sudo

 

apt-get install

 python
Data about the build is given at the end of the compilation after running make.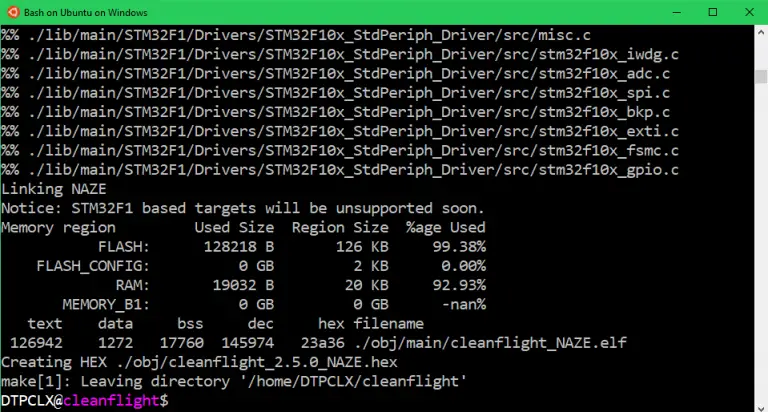 Firmware .HEX file is now located in the obj folder. If you are using ubuntu subsystem in Windows 10, do the following to get .hex file to your windows desktop.
cp

 obj

/

cleanflight_2.5.0_NAZE.hex 

/

mnt

/

c

/

Users

/

"Username"

/

Desktop

/
Or you could just use file explorer to access it.(not recommended by Microsoft)
C:\Users\

"Windows User"

\AppData\Local\lxss\home\

"Linux User"

\cleanflight\obj
In Cleanflight choose the .hex file you just compiled and flash it.
In this tutorial, we only compiled the firmware. If you want to know how to modify it by adding/removing features check out
this post
I made.